List of hotels in Bishkek
Hyatt Regency Hotel, Bishkek
Abdurakhmanov Street, 191, Bishkek, Kyrgyzstan

The Hyatt Regency Hotel is a fashionable hotel located in the center of Bishkek. Luxurious interiors, highly qualified staff and at the same time a relaxed, relaxed atmosphere that is so conducive to relaxation make the days spent here unforgettable.
Hotel Jannat, Bishkek
Abdumomunova Street 259 Bishkek, Kyrgyzstan

We will do everything to ensure that our guests are satisfied with the hotel service! This is exactly the motto that guides the staff of the Jannat Hotel in their work. In accordance with international standards, ideal conditions for a good rest have been created here. The rooms have comfortable furniture, individual climate control systems...
Hotel Golden Dragon, Bishkek
Elbaeva Street, 60, Bishkek, Kyrgyzstan

Extra-class service and truly royal living conditions await guests of the five-star Golden Dragon Hotel. The hotel's room capacity includes 43 residential rooms, each of which is an example of design skill and subtle taste. The technical equipment of the rooms meets all modern standards.
Hotel Club-Dostuk, Bishkek
st. Frunze 429 B, Bishkek, Kyrgyzstan

"Club-Dostuk" is a modern club-type hotel, where guests are guaranteed a high level of comfort, unobtrusive service and a wide range of various services. This elegant, respectable hotel is located in the business center of Bishkek in the Dostuk hotel complex.
Hotel Europe, Bishkek
st. Ibraimova 70, Bishkek, Kyrgyzstan

The new comfortable hotel "Europe" is conveniently located in the central area of Bishkek, and is pleased to offer guests of the capital a comfortable stay in 4 types of rooms. Comfortable beds with pure cotton linens, quality furniture, bathrooms with modern fixtures, and many other amenities.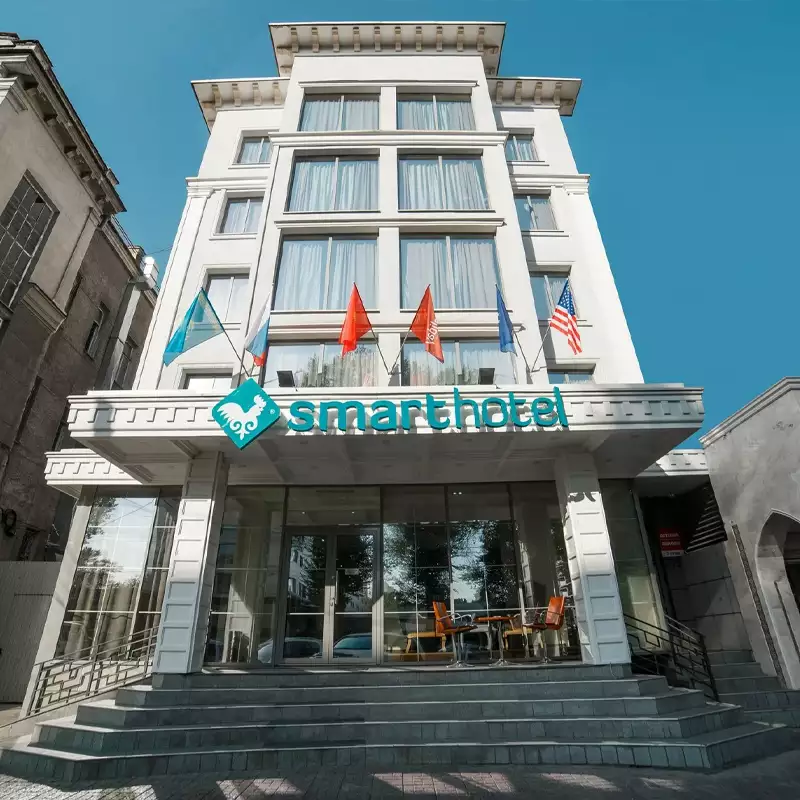 Smart Hotel, Bishkek
Abdrakhmanov Street 204 Bishkek, Kyrgyzstan

All prices are for single occupancy. Supplement for a second guest is 20 USD. Double occupancy is provided in Junior Suite and Suite rooms. \"Smart" is a modern business hotel located directly in the center of the capital, close to many historical...
Plaza Hotel, Bishkek
st. Togolok-Moldo, 52, Bishkek

The Plaza Hotel is a combination of aristocratic style and modern equipment. The nine-story hotel building is located almost in the center of Bishkek, and was created for luxurious accommodation and business meetings. The comfortable rooms are tastefully decorated and the meeting rooms can accommodate up to 80 people.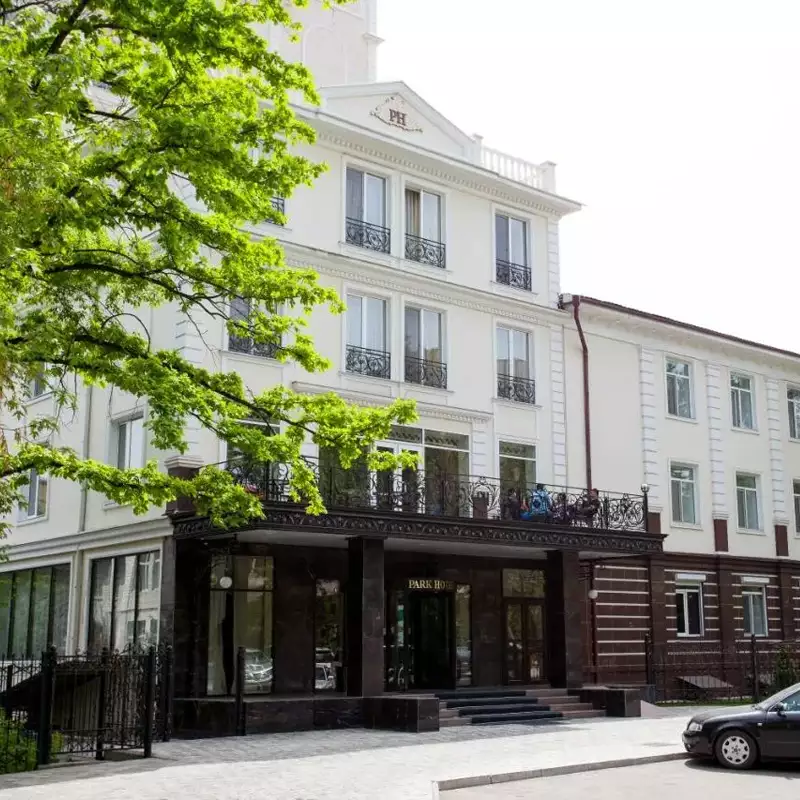 Hotel Park Hotel, Bishkek
Orozbekova street, 87 Bishkek, Kyrgyzstan

The Park Hotel is located in the center of Bishkek. Business centers, offices of commercial organizations, representative offices of government agencies and entertainment centers, as well as Ala-Too Square and Panfilov Park are located in close proximity to the hotel.
Golden Tulip Hotel, Bishkek
37 Isanova str., Bishkek, Kyrgyzstan

The four-star hotel in Bishkek offers guests of the capital of Kyrgyzstan accommodation in 64 cozy rooms - from small standard rooms to luxurious presidential apartments. American and Arab designers participated in the design of the façade and interior decoration of the hotel.
Ambassador Hotel, Bishkek
st. Orozbekova 32, 720040, Bishkek

In the very center of the business and cultural life of Bishkek, there is the luxurious Ambassador Hotel. It is conveniently located among government institutions, business centers, and the embassies of France, Germany, Turkey, Iran and Japan are located nearby.
Interhouse Hotel, Bishkek
Manas Ave. 91/1, Bishkek, Kyrgyzstan

Interhouse is a unique hybrid of a hotel and a hostel. The hotel offers its guests the opportunity to stay in a separate room, or stay in 4-bed rooms with other people. It is advantageously located in the central part of Bishkek, and next to it there are popular...
Hotel Guest House Asia Mountains 2, Bishkek
Shoorukova Street, 32 Bishkek, Kyrgyzstan

Hotel "Mountains of Asia 2" is located in an easily accessible area of Bishkek, near the Botanical Garden. The hotel has a bar equipped with a fireplace that can accommodate up to 40 people. At the request of clients, we can order dishes from a variety of cuisines. Conference hall...
Hotel Guest House Demi, Bishkek
St. Akhunbaeva 10 Bishkek, Kyrgyzstan

Guest house "Demi" is located in a quiet, picturesque area of Bishkek. The hotel has a small garden with trees and flowers, where it is so pleasant to stroll and relax from the bustle and noise of the city.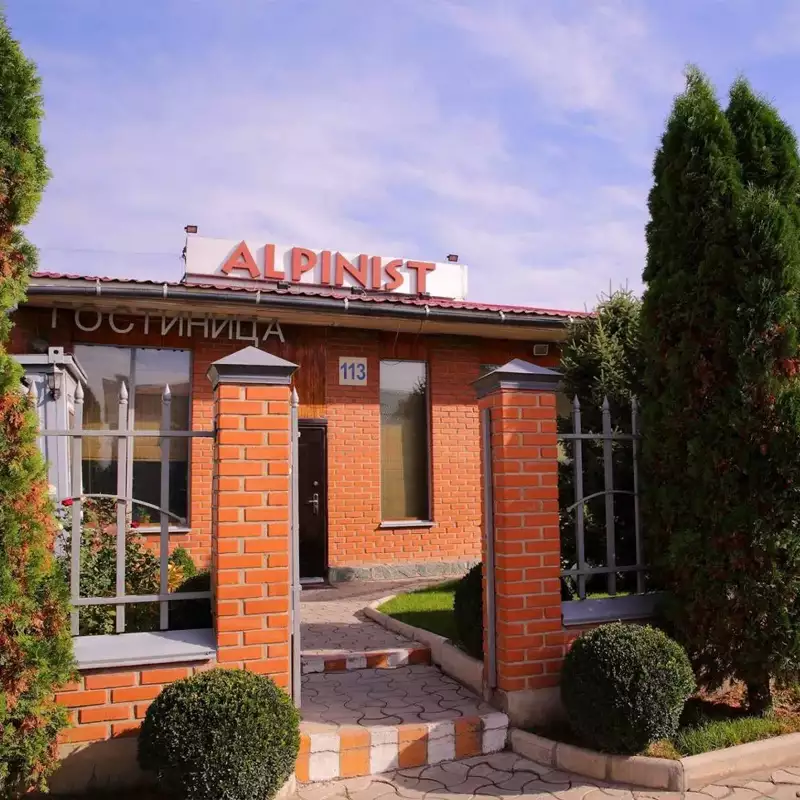 Hotel Alpinist, Bishkek
Panfilova Street 113 Bishkek, Kyrgyzstan

The hospitable and comfortable Alpinist hotel is located 5 min. walking distance from the city center where most of the tourist spots and government offices are located. Each room has a shower and air conditioning.
Hotel Guest House "Mountains of Asia", Bishkek
Lineinaya street, 1-a Bishkek, Kyrgyzstan

Guest house "Mountains of Asia" is located in a central and easily accessible area of Bishkek, next to the popular restaurant "Steinbrau". The three-story guest house offers accommodation in 12 comfortable...
Solux Hotel, Bishkek
st. Kalyka Akieva, 117, Bishkek, Kyrgyzstan

Guest house "Solux" is located in the center of Bishkek, at the intersection of Kalyka Akieva and Chui streets, not far from the National Television and Radio Company. The guest house offers tourists 10 comfortable and cozy rooms in a 2-story building.